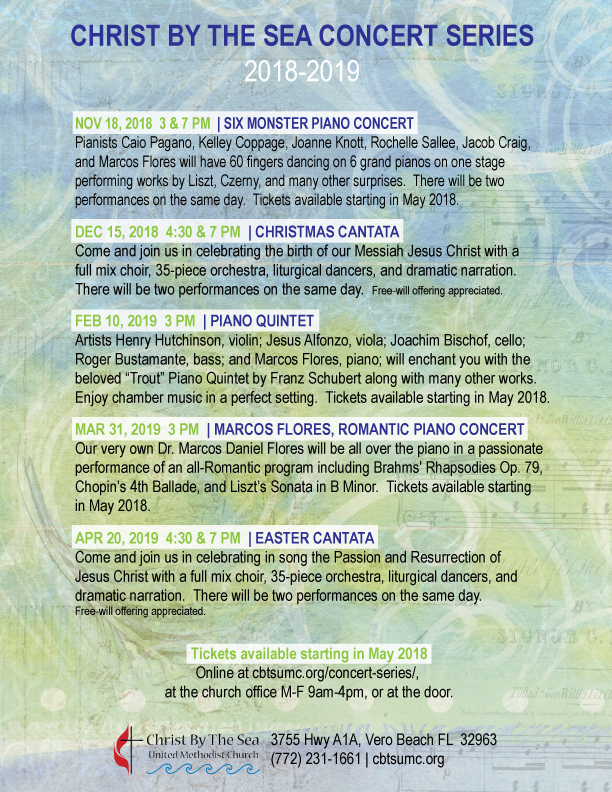 To purchase a ticket click on Buy Tickets online now above.

No tickets needed for Cantatas; Free will offering

THE TWO PIANO CONCERT CARUSI/FLORES HAS BEEN RESCHEDULED TO 2020

MARCOS FLORES, ROMANTIC PIANO CONCERT WILL NOW BE ON MARCH 31, 2019.

FOR THE CONCERT SERIES/CANTATA PROGRAM

If you would like to place and Ad in our program please see the price listing below or call Roberta Dougherty, 609-335-1490 for more information.

$100.00 1/8 page. 2.5″ X 2″

$150.00 1/4 page (expanded business card), 5″ X 2″

$250.00 1/2 page, 5″ X 4″

$500.00 Full page, 5″ X 8″

The advertisement will appear in color in eight concert program booklets which will be used at eight performances. The concert schedule is provided above. To pay for your ad online please click the ADS icon below. Your electronic advertising copy may be emailed to Toni Lehan at tlehan@cbtsumc.org. Ads should already be formatted to the ad size purchased and with good resolution.